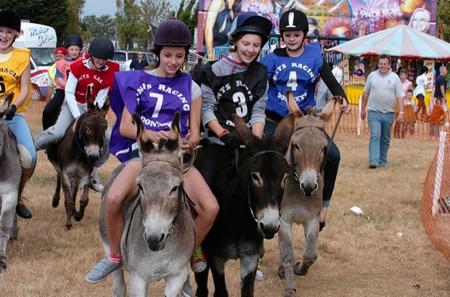 Top hats and tails were left behind for a sun-drenched Island race meeting that put Ascot in the shade when it came to four-legged fun.
More than 5,000 punters in party mood descended on Sheppey Court Marshes in Halfway Road, Sheerness, for the Sheppey Round Table Donkey Derby – and an action-packed day of events and attractions produced a bumper day.
A team of tip-top donkeys that looked in peak racing condition, took part in eight sponsored sprints, with mounts and individual races sponsored by Island businesses.
There were thrills and spills as young riders rode for victory, with punters plunging their cash on jockey colours.
Huge entertainment value was offered by a boot sale, fun fair, a host of stalls and sideshows, face painting, beer tent and barbecue. The demand for beefburgers was overwhelming.
For the full story and three pages of pictures, see this week's Times Guardian, out Wednesday.