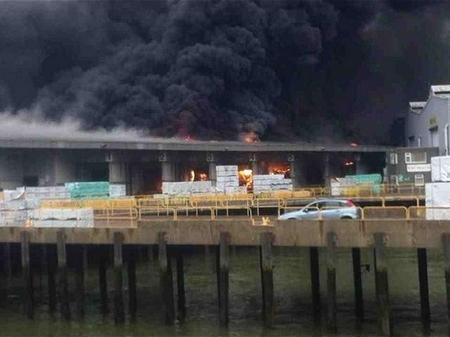 Fifty firefighters from across the county have been tackling a huge blaze at Sheerness Docks.
Thick black smoke could be seen from the high street and as far as Iwade earlier, but it has now subsided.
Police were also called to the fire, which broke out at about 11.30am today.
The blaze started in a warehouse within the port, which is 100m by 200m and in berth two.
Six fire engines are supported by two height vehicles and specialist units as well as two tug boats fighting it from the water.
A spokesman for Kent Fire and Rescue Service said: "It is believed the warehouse may contain cylinders."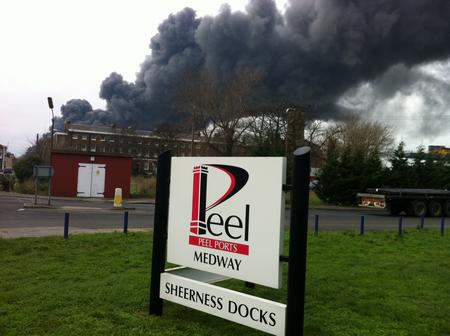 One witness said earlier: "It looks like a huge black thunder cloud. "The plume of smoke is unbelievable."
Reporting from the scene, a Times Guardian reporter said crowds of people had flocked to the area trying to get a better view of the drama.
He said: "There was a number of people walking down Blue Town High Street with their phones trying to film what was going on.
"People had also gathered by the old dockyard wall off West Street where you could get a decent look at the smoke.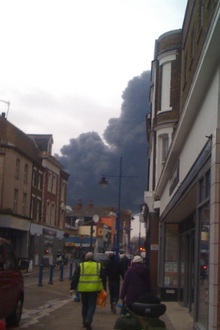 "Motorists coming down Brielle Way were also trying to snatch a glimpse at what was happening.
"The plume turned from an acrid black to a clearer grey and then white while I was there.
"I guess that was as the blaze was being tackled by the fire crews who had come from across the area."
South East Coast Ambulance Service also sent a crew.
They were stood down but have since been called back and are treating five men for smoke inhalation.
Paramedics assessed and treated the men at the scene and two are being taken to Medway Maritime Hospital for further treatment.
All of the patients are reported as being conscious and breathing.
It is not clear yet if they are docks workers or members of the emergency services.
An ambulance, a car and a team from its hazardous response unit were sent there.