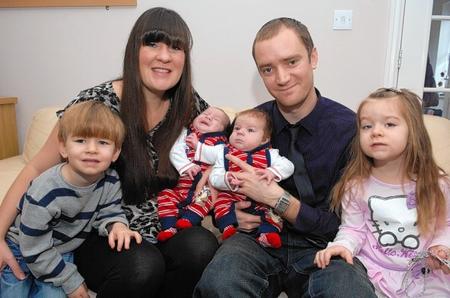 Ever wondered what it's like to have two sets of twins?
Shocked is a bit of an understatement for how Victoria Edridge and Paul Shaw felt when they found out they were expecting two babies.
And it was double trouble three years later when a second pair came along.
The couple, of Primrose Way, Minster, had Isabel and William, who turned three in October, in 2009 and Nicholas and Matthew were born in November.
There is no history of twins in either family and both sets, who are not identical, were conceived naturally.
Victoria, 27, said: "It was a big shock and it was a bit scary [bringing them home] and thinking how are we going to cope.
"But we were really excited.

"We don't know any different – we don't know what it's like to just have one."
Paul, who is manager at Priory Hill Holiday Park in Leysdown, and Victoria had planned to have another baby – and when they discovered it was twins again at their 12-week scan, Victoria said she was more shocked than the first time.
"I just laid on the bed giggling, I think just with shock," she said.
"Paul was really calm about it – he was expecting triplets.
"Everyone was really surprised when we phoned round and said it's twins again.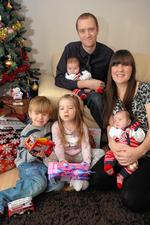 "They all thought we were joking – it wasn't really real until they saw the scan."
Isabel and William took the news well when told there were two babies in mummy's tummy and since their little brothers were born they have been really involved and love helping out.
All the babies were quite big for twins – Isabel was 6lb 2oz, William 7lb 5oz, Nicholas 7lb 12oz and Matthew 7lb 14oz.
Victoria said the family does attract a lot of attention when they go out and they always get asked the same questions – do twins run in the family, are they identical, what it's like having two sets?
And in response to the last question she says it's busy at home and can often be hectic – but they wouldn't want it any other way.
"It can be hard work but it will be nice to all grow up together and have that special bond," she said.
"I feel very lucky to have two sets of twins – I wouldn't want it any different."
There are no plans for any more little ones though.
"I think four is enough," she added.