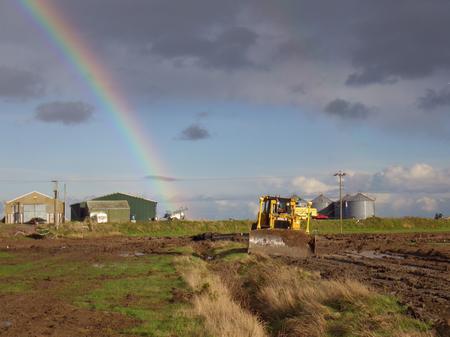 A former Eastchurch farm has been transformed into a wetland habitat which is hoped will become home to a variety of wildlife.
The Environment Agency (EA) bought Great Bells Farm, south of the Sheppey prison cluster, in March 2009.
It leased the 190-hectare plot out to the RSPB which has been making it suitable for protected species to inhabit.
Originally an arable farm, it has been turned into a pasture where Angus beef cattle and Romney Marsh sheep will also be raised.
It was converted under the EA's obligation to compensate for coastal land lost through the building of tidal and sea defences along the north Kent coast.
Wildlife advisor Tom Reid said: "The land will still be farmed, but differently.
"It is already attracting wildlife. We aim to ensure that the bird reserves that exist on Sheppey are larger and are better connected, this will make it better for wildlife in the long term."
He said while the main focus will be attracting birds, it is also "uniquely placed" in the county to provide a habitat for species of water voles and beetles.
Mr Reid said there are currently no plans to promote the area as a visitor attraction as the animals need more time to become established.
The new marshland was developed by digging a network of ditches, making it suitable for wading birds up to six months of the year.
A small earth mound – called a bund – has been laid all around the site to ensure the water does not escape or flood areas nearby.
The construction phases are close to being completed and the project is about to enter a 10-year management period and it is hoped the new wetlands will one day link up with Elmley Nature Reserve.
This scheme is part of the Medway Estuary and Swale Shoreline Management Plan, which will spend £1.6bn on flood protection from the Medway Estuary up to but not including Whitstable.
It is calculated the defences will save £4.5bn that would be lost in flooding over the next century.