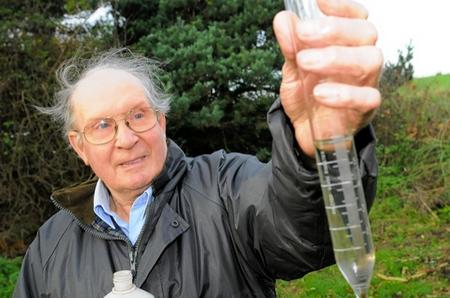 If all your memories of 2012 involve rain it's not surprising because last year has officially been declared the wettest in almost two decades.
Since amateur meteorologist Ken Beal started measuring rainfall on behalf of the Environment Agency in 1994, we have never seen more of the wet stuff come down in a 12-month period.
According to Mr Beal, who collates the figures at his home in Eastchurch, there has been 745.8mm of rain in 2012, which does not include New Year's Eve.
The previous Sheppey record was 2000, when there was 725mm.
However, it actually only rained for 38% of this year – on 141 of the 366 days. July was the dampest month, with 113.7mm, followed by June and October, with 109.9mm falling in both.
Surprisingly February, which is usually a wet month, was the driest with only 13.1mm of rain.
There was 32.9mm in January; 16.8mm in March; 77.6mm in April; 22.7mm in May; 32.8mm in August; 76.7mm in September; 59.7mm in November and 80mm in December.
The wettest day of 2012 was Friday, July 20, when 32.7mm of rain fell.
The Queen's Diamond Jubilee weekend in June also saw a heavy downpour with 26.4mm on Saturday 2 and 17.8mm on Sunday 3.
March had the most dry days – with no rain coming down at all for 27 of the 31 days.
October was also the dampest month in the previous wettest year, 2000, when there was 161.9mm.
Last year's miserable weather was in contrast to 2011, which was one of the driest the Island has seen, as there was 388.3mm of rain overall – just over half of what fell in 2012.
Mr Beal, 83, said: "With a little luck we might be coming in to a slightly drier spell now.
"It certainly felt like the wettest year.
"Hopefully it will go back to being normal again – let's hope so.
"The only worry is that when the rain stops it will probably stop for a very long time."