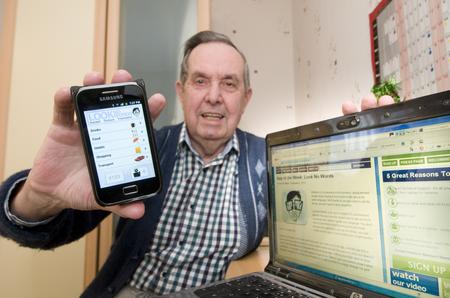 by Hayley Robinson
Most great-grandads would not have a clue what a smartphone is, let alone what an app does.
But then not all of them are like Bryan Speller.
The 75-year-old has developed an app called Look No Words, which people can download to their mobile phones to use while they are abroad.
Instead of struggling to communicate with the locals, you simply access a library of photos of the most frequently asked for things which you then show to the person who does not speak your language.
You can even add your own photos, such as your favourite meal or your hotel in case you need to ask for directions.
Best of all, no internet connection is required meaning it can be used any time, any place, anywhere and there are no additional roaming charges on your bill while overseas.
"i wanted a fry-up but as they didn't speak english i was having difficulty explaining what i wanted..." – bryan speller
Mr Speller, of Frognal Close, Teynham, came up with the idea following a holiday in Greece with his wife Sheila, 74.
The former salesman said: "I wanted a fry-up but as they didn't speak English I was having difficulty explaining what I wanted.
"I said to my wife 'if only I had a picture to show them'.
"This was about 30 years ago but I was telling some of the grandchildren about it earlier this year and saying I was going to produce a book.
"It was only when I got a smart phone that I thought I could do it on there instead as people carry their phones on them all the time."
He found a company in Bath, which agreed to create the app for £6,000.
Mr Speller said: "We used our holiday money to pay for it and it finally went live in September.
"Only 50 people have downloaded it so far but I'm hoping more will once they know about it. I'd love to be a millionaire off the back of it."
Look No Words can be downloaded from the Apple App Store or Android's Google Play store for 69p.