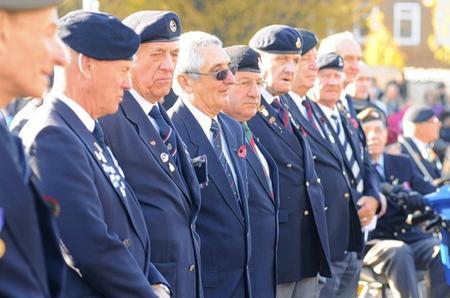 by Hayley Robinson
People turned out in force to pay their respects to those who died for their country.
Services were held across the area to remember those who made the ultimate sacrifice, as well as veterans and those who are serving today.
A Remembrance service led by the Reverend Michael Resch held in Central Avenue, Sittingbourne, was attended by up to 1,000 people.
It was followed by a wreath-laying at the war memorial.
Deputy Mayor Cllr Sue Gent and a representative from The Royal British Legion took the salute as the parade passed.
Around 40 people also turned out to pay tribute to the war dead at the new memorial installed in the grounds of Holy Trinity Church, Milton Regis.
The service was taken by the Reverend Margaret Mascall.
It was a moment D-Day veteran Larry Smithers thought he would never see. The original memorial, which bore the names of those residents who died in the First World War, was destroyed by a falling tree in the great storm of 1987.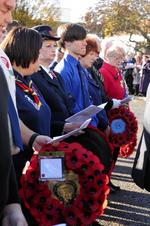 Since then the old soldier and his friend Rob Jordan have been campaigning to get a new one installed.
After years of fundraising and a £15,000 anonymous donation, the stonework was finally put in place in September with a dedication ceremony being held just four weeks before Remembrance Sunday.
Mr Smithers was at the service with his daughter who laid a wreath on his behalf.
He said: "The Milton Regis War Memorial Committee is now researching the names of those who died in the Second World War so they can start fundraising for those names to be added to it in the near future."
Other ceremonies were held at Church of SS Peter and Paul, Borden; Church of St Mary the Virgin, Newington; Church of St Mary the Virgin, Upchurch; Church of St Michael and All Angels, Hartlip; St Margaret's Church, Lower Halstow; All Saints, Iwade; All Saints, Murston; St Giles Church, Tonge; St Mary's Church, Teynham; and St Laurence Church, Bapchild.
A poppy collection at the town's service raised £800.
It is not yet known how much has been collected in tins placed at businesses and pubs in the area.
Fred Langworthy, chairman of the Royal British Legion Sittingbourne and Milton Regis branch, said: "Last year we raised £33,000 so we're hoping to top that this year."
For more pictures, see this Wednesday's Sittingbourne News Extra or Friday's Sittingbourne Messenger.