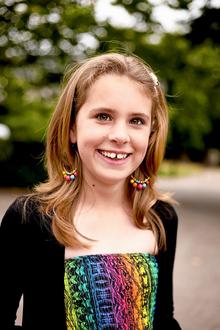 by Stephen Waite
Every birthday is a cause for celebration but one Sittingbourne schoolgirl has a dozen reasons to party.
Sian Johnson, who was born on December 12 2000, turns 12 today, making her 12 on 12.12.12.
Dad Keith, 42, of Feldspar Close, said: "We realised the calendar was aligning and her 12th birthday would be on the 12th of the 12th 2012.
"It's a special day, a once-in-a-lifetime thing.
"There was a big thing about millennium babies and this is the same thing, 12 years on.
"Sian twigged on to it and even said it was a shame she wasn't born at 12 minutes past 12."
Sian, who goes to Westlands School and has a younger sister, Erin, four, was late arriving and made her appearance into the world at Medway Maritime Hospital in Gillingham at 6.10am.
"My wife, Laura, couldn't wait any longer," laughed Keith.
Fittingly, in a year dominated by sport, particularly London 2012, Sian is incredibly sporty, and is keen on horse riding and swimming, as well as karate, which she does in Maidstone and Iwade.
"She's an athletic, doing type of child," said Keith, who along with Laura, 38, is self employed. "She's rarely sitting still in front of the TV."
The number 12 is significant for the Johnsons, with Erin also being born on the 12th of the month.
Plans to mark Sian's big day were still being made but today was likely to be pretty much as normal, said Keith.
"Being a Wednesday it's a school day. She also does karate on a Wednesday so she'll go to school and then karate. It'll be the weekend when we get the family together."
What's for sure is that the number 12 will feature heavily in the party proceedings, with candles, a cake and balloons in the pipeline.
"We might even do 12 lines on the lottery," added Keith. "And the birthday numbers do appear in the list, so you never know."
The last time the date aligned in such a way was December 12, 1912 when King George V was on the throne, Herbert Asquith was prime minster and William Howard Taft was US president.