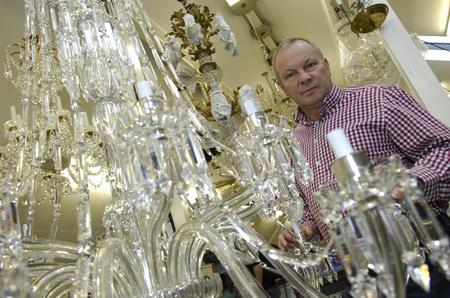 The delicate task of cleaning a lavish chandelier has been filmed by ITV with work carried out by a Kent firm with royal pedigree.
David Wilkinson, boss of Bredgar-based Wilkinson Plc, oversaw the dismantling of a chandelier at a unnamed private members' club in London's Pall Mall for the ITV series Dirty Britain.
His specialist cleaners used ladders to reach the 6ft-long chandelier and then carefully washed, dried and polished more than 2,000 crystal drops to bring back its sparkle. The whole operation took three-and-a-half hours.
Mr Wilkinson, who supervised proceedings at the exclusive address, said: "It was good for us to take part in the programme as people don't always know where they can get chandeliers cleaned, so it raises awareness of our work."
Chandelier cleaning can cost from £100 for a simple piece to more than a £1,000 for huge masterpieces.
Wilkinson creates and repairs chandeliers for eight royal families and holds the Royal Warrant of Appointment as a supplier to the Queen since 1985.
The Dirty Britain episode is set to be screened in June.