How far would you be prepared to go in order to get married?
One couple are so desperate to say 'I do' that they are looking for companies to sponsor their big day so they can get wed for free.
Stacy Burnett, 29, and Daniel Webb, 28, who have been together for two years, had hoped to marry this year.
The bride-to-be even bought her wedding dress and two bridesmaids' outfits in anticipation of booking their nuptials but the rising cost of getting hitched meant they had to put their plans on hold.
In a desperate bid to celebrate their love for one another sooner rather than later, the pair decided to look at alternative ways of making their dream become a reality.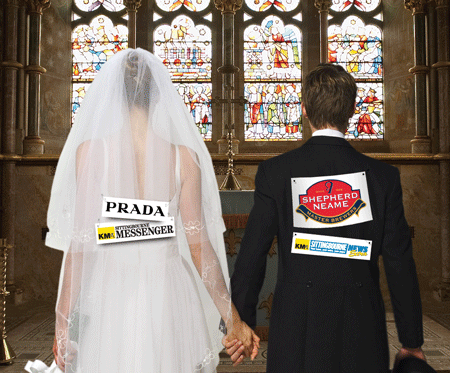 Mum-of-one Stacy, who lives in Barrow Grove, Sittingbourne, said: "I started planning eagerly last year but due to the economic climate it's all had to be put on hold for the foreseeable future.
"My fiancé works full time and we have even moved in with my parents so that we could save.
"We want a church wedding because it's bit more traditional, but with church fees, venue fees, catering, rings, suits, DJ even for the most basic of weddings, it just wasn't possible for us to do it this year.
"We don't want a big fancy wedding but even the most basic of packages is too expensive.
"we'd be willing to talk about signs on my dress and the back of suits" – bride-to-be stacy burnett
"Doing everything on a budget we reckon it will still cost between £3,000 and £5,500.
"While some couples might not want to get married in 2013 because they're a little superstitious we'd love to get married this year - after all, we just want to say 'I do'.
"We would even be willing to have any advertising for any companies that would be kind enough to help us out."
The pair say they are happy to sit down and discuss ideas with the individual businesses about how they can advertise the services they provide them with on the day.
Miss Burnett said: "We'd be willing to talk about signs on my dress and the back of suits, all we'd ask is that they could be removed for photographs."
Companies interested in sponsoring Stacy and Daniel's big day are asked to call the newsdesk on 01795 580300.