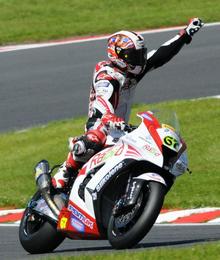 Shane Byrne will be challenging for a record breaking fourth British Superbike crown after agreeing to stay with the Rapid Solicitors Kawasaki team for another season.
Last season's champion was given a choice of racing for Paul Bird's MotoGP team or the chance to make history in the British championship.
The Sittingbourne ace (pictured) said: "The option of staying with my championship-winning team on a great bike in BSB was too strong a temptation to resist.
"We are within sight of some records and so for the first time ever in my career, I am riding for the same team again but it wasn't really a difficult decision to make.
"We are going into 2013 even stronger and with a few improvements to the bike as well as me training harder than ever, I'm hoping I can defend the title but it won't be easy."
Byrne added a third British Superbike title to his name earlier this year but nobody has gone onto win four. He is also just two wins away from matching the record of fellow triple champion Ryuichi Kiyonari, who holds the all-time record with 43 race victories.
Team boss Paul Bird said: "We came back to Britain for one thing only and that was for us to win the title and now we aim to defend it as we've never had a rider do that.
"Shakey proved he was the dominant force last season and there's no reason why he can't do it again."
Byrne will return next year with a new-team mate, as reigning National Superstock 1000 champion Keith Farmer was also signed on for the 2013 season.