by Hayley Robinson
A car was issued with two parking tickets while outside Sittingbourne police station - despite a note from officers explaining the owner had been taken to hospital.
The Mitsubishi 4x4 Shogun was left in the parking bay, which has a 30-minute waiting restriction, in Central Avenue
But within minutes of it being parked, the driver was detained by police under the Mental Health Act before being taken to Maidstone Hospital.
With no one available to move it, the vehicle remained in the space with a note written on Kent Police headed paper advising traffic wardens of the situation.
It read: "Please do not give this vehicle a parking ticket the owner has been taken to hospital. Police aware."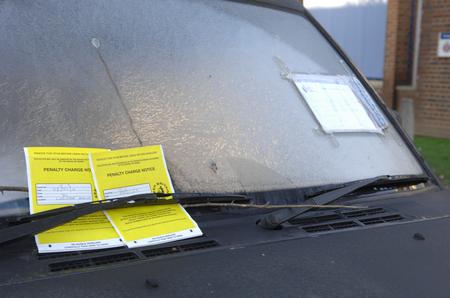 There was also a reference number left on the note after the vehicle was left at around 7.50am on Saturday, February 2.
The first ticket was issued at around 1pm on February 6 - and the second at a similar time the following day.
A shopper was stunned to see the note and parking fines attached to the windscreen.
He said: "I spoke to passers-by and not one had any sympathy to the folly of issuing a parking ticket.
"Parking wardens are not employed for their decision-making skills so you cannot directly blame that particular warden.
"The blame lies with the person in charge. It is just an extension of the attitude of the council in charging car owners who should be patronising the shops in the town centre."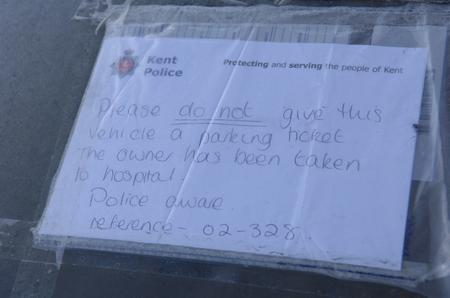 The car was eventually moved by a family member some time over the weekend. It is not known if they plan to appeal, but a Kent Police spokesman confirmed the force will not have to foot the bill.
A Swale council spokesman said: "Traffic enforcement officers confirmed with Kent Police the circumstances surrounding the vehicle left outside of the police station.
"A concession period of between 24 and 48 hours was given to allow a third party [family member] to arrange for the removal of the vehicle.
"The bays outside the police station are provided to enable a high turnover of free short stay visitor parking to visitors and so a vehicle left for an extended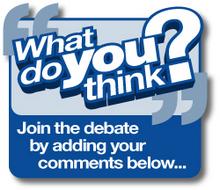 period in these bays will have an impact on other visitors to the area.
"We were therefore unable to extend the concession granted due to the continued impact on parking availability and advised the police accordingly.
"Where a penalty charge notice has been issued, the council will of course consider an appeal and any mitigation presented explaining why the vehicle remained parked at the location."