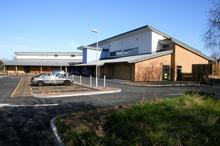 by Hayley Robinson
Care for disabled children and their families in Swale is about to be transformed.   
Final preparations are under way to open a £4.4 million centre at the former Meadowfields school site in Attlee Way, Kemsley.
The two-storey building, named Orchards, will bring together health, social care and voluntary professionals under one roof.
It will house paediatricians, speech and language therapists, occupational therapists, physiotherapists, dieticians, a podiatrist, a specialist dentist, audiologist and other consultants, who will work alongside teams from education, social services and parent-led charities.  
The aim is to improve the care and support given to more than 2,000 children in the borough who have conditions such as Down's syndrome, autism and cerebral palsy. Inside is a mixture of clinic and physiotherapy rooms, a sensory room and soft play area.
The one-stop shop, which took 16 months to build, is expected to be fully operational by June.
Martin Cunnington, senior commissioning manager for disabled children and children with long-term conditions at NHS Kent and Medway, said: "Parents told us they wanted a more joined-up approach to their children's care. Orchards will not only mean parents only have to tell their story once, but ensure that families have full access to the wide range of support available to them, close to home and all under one roof."
Jenny Whittle, Kent County Council's cabinet member for specialist children's services, said: "Bringing health and social care services together will make sure children in Swale with disabilities, and their families, get the support they need.
"There are also benefits for health and social care professionals working together - giving them an insight into each other's work and using that experience to better serve children and young people."
The hub is one of three funded by NHS Kent and Medway, Kent County Council and central government grants.