by Hayley Robinson
A charity has submitted a bid to buy the former town magistrates' court.
FACES of Kent, which offers support services to carers of all ages, says it needs to find a bigger, permanent and more central location due to the growing number of people it helps.
It currently rents offices in Sheerness, where it has been based for the last three and a half years.
A mortgage has already been agreed in principal so the charity can buy the premises in Park Road, Sittingbourne.
If its offer is accepted, it plans to transform the building – providing training and function rooms, plus conference and office facilities which will be available to other organisations to hire.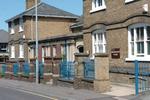 There will be a young carers' zone where parents can drop their youngsters off while they shop in the high street without any distractions.
There will also be a cafe open to the public plus a sensory room, wet room and shower facilities.
In addition there will be 1:1 counselling rooms, therapy and relaxation rooms, wi-fi computer suite, a quiet room, sensory garden and a bedsit to support young carers.
Grants will be used to carry out the refurbishment works, which are estimated to cost in the region of £600,000. It will be done in phases.
It's hoped the community cafe, hire-out rooms and car parking will provide a regular income to keep the centre running.
Chief executive Sandie Hornby said: "It's something we've always spoken about but it's only now we feel we're in a position to go ahead and do it.
"We've looked at other buildings in Sittingbourne but they were too small.
"A design agent which sponsors us has had an architect draw up some plans for us free of charge.
"We're hopeful and very excited but we have said if we don't get the court we will move somewhere else because at the moment our offices are up two flights of stairs and there is no disabled access."