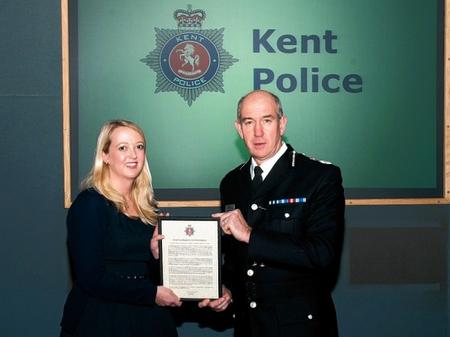 by Hayley Robinson
A police officer who supports victims of child abuse had her work recognised at a Kent Police awards ceremony.
Det Con Emily Hooper received a Chief Constable's Commendation during a presentation ceremony held at Kent Police Training School.
The event recognises the outstanding achievements by the public, as well as police officers and staff.
Det Con Hooper was commended for her exemplary professionalism, commitment and determination after investigating a number of child abuse cases while working at Sittingbourne police station.
The 29-year-old joined Kent Police in April 2007. Prior to that she had studied psychology at Roehampton University.
During this time she spent her final year carrying out extra research into the behaviour of sex offenders and the impact it has on their victims.
In December 2009 she took up her position in Sittingbourne which involved obtaining accounts from victims and supporting them throughout the cases.
"I wanted to give victims of sexual abuse a voice," she said. "The biggest fear for them is that they're not going to be believed because that's what their abuser tells them.
"I do have to view videos and images sometimes but you just have to try to distance yourself from it.
"It is difficult to contemplate that someone can commit those crimes against anyone, let alone a child, but you have to focus on the object which is protecting children.
"You can never take away what those people have been through and what they've suffered but for them it's about them feeling they've finally been believed."
She now works as a combined safeguarding officer at Nackington near Canterbury.
It is the same line of work now but instead of specialising only in child protection, she also deals with adult protection and domestic abuse.
Speaking after receiving the award, she said: "I'm delighted to have received a Chief Constable's Commendation for my work.
"I'd like to pay tribute to the young victims who showed courage in seeing their abusers brought to justice."