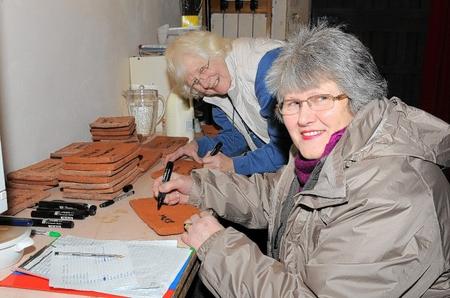 A church will replace its roof using tiles that have been individually inscribed by villagers.
St Mary and the Holy Cross in Milstead is requesting a £1 donation for the privilege of recording a message on a tile for posterity.
Church warden Phebe Chamberlain is helping the fundraising mission to replace the roof, which was last overhauled in the 1870s.
The total cost of the work is £28,000.
As well as recording their names on the underside of the tiles, villagers have been drawing pictures, and one man even inscribed a word ladder out of the words 'roof' and 'tile.'
The idea of selling the tiles came from church architect John Bailey of London firm Thomas Ford & Partners, who had seen it work in other parts of the country.
Damp is starting to infiltrate the roof of the Grade II listed church and woodworm is becoming a problem, but Mrs Chamberlain says that the community is responding to the fundraising challenge.
At the launch of the initiative on Sunday, around 200 tiles were signed, raising between £200-300.
Mrs Chamberlain said: "It was great that people still came and supported the church in spite of the horrible weather."