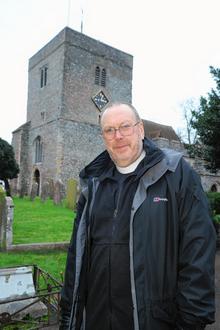 by Hayley Robinson
They say bad luck comes in threes and that was certainly the case for one church which was targeted by thieves.
St Peter and St Paul's Church, in Borden, has been left counting the cost after diesel used for the building's heating system was stolen from an outside storage tank.
It was first tampered with between 6.30pm on Saturday, December 22 and 5.30pm the following day when it is thought more than £450 worth of fuel was taken.
More was stolen between Christmas Day and Boxing Day.
On New Year's Eve the culprits were unsuccessful in their attempt after they were disturbed by Father John Lewis. He was inside the church at the time but went outside to investigate after hearing a noise.
The church is now looking at a bill of £3,000, equivalent to a year's worth of fuel, to have a steel cage built around the tank to prevent future thefts.
Fr Lewis said: "It's difficult to say exactly how much has been taken but we reckon in total it's as much as 1,800 litres which equates to about £1,026.
"I think what some criminals would do is take the lot and either use it for their own business or sell it on, but what I think happened on this occasion is someone with two or three vehicles fills up enough jerry cans to fill their cars then comes back when they're low on fuel- we're almost like a filling station for them.
"When I've spoken to people in the village about it there is this great sense of 'how can people steal from the church?'.
"It seems to be the people who live in the village but who don't come to church who have been most irritated by it.
"Security lighting, CCTV and an alarm which goes inside the tank and sounds when the levels drop faster than normal are also being looked at by the parochial church council."
Call police on 101 with any information quoting references XY/039339/12 for the December 22/23 incident, XY/039527/12 for December 25/26 or XY/040007/12 for December 31