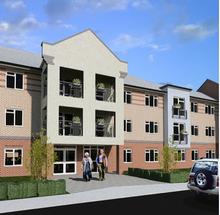 by Hayley Robinson
Controversial plans for a £7m complex for elderly people in Milton Regis have been given the go-ahead.
It means Wyllie Court, off Attlee Way, will be replaced with a state-of-the-art building by social housing provider AmicusHorizon.
It will feature 51 one and two bedroom apartments, a cafe, hair dressing salon, activity rooms, lounge and bar and a reception area.
Demolition of the previous building has already started.
The project is due to be completed by summer 2014. People living in the area objected to the development, which will front North Street, claiming it will out of keeping with the area.
Other fears included loss of privacy, that it would be an eyesore and a suggestion that it is not suitable accommodation for elderly people from Milton Regis because it will be too expensive.
Swale council received two petitions totalling more than 100 signatures against the complex.
Nearby property owner Bill Francis was one of those worried about the proposed development and the effect it would have on existing residents.
He claimed he and his neighbours were already suffering from increased traffic noise after a boundary fence was put up.
But the council's major projects officer, Jim Wilson, recommended the scheme be given the go-ahead when the committee discussed the matter.
In his report he argued the development would not be "overly dominant" or "out of scale" and could become a "landmark" building which would improve the area.
He wrote: "It should be stressed that this is an important, high-profile site and as such any development permitted on it must be capable of performing the role of a 'landmark' building.
"This, by definition, requires a building of good design in order to ensure that the proposal brings about an appropriate improvement to the area."
Members deferred the decision and called for a site meeting last month. Following the visit the application was passed by the committee when it met at Swale House, East Street, Sittingbourne, last Thursday.
An AmicusHorizon spokesman said the association was delighted with the news.