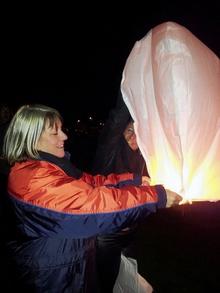 by Hayley Robinson
The first anniversary of Carl Davies' death was never going to be easy.
But his parents Andy and Maria say they found some comfort in meeting up with family and friends for a drink in memory of their son.
Around 60 people made their way to Woodstock Sports and Social Club on Friday to join the couple and their daughter Kerrie Stewart who travelled down from Scotland with her husband Joe and their daughter Lily.
The following day the family were joined by 100 people at Minster beach where Chinese lanterns were released into the night sky.
Mr Davies, who lives with his wife in Harrietsham, said: "We weren't going to do anything to start with, just have a quiet day reflecting but so many people kept asking if we were going to do anything that we said maybe we should and I'm grateful we did.
"It was good for us and just what we needed. There were a few tears but the first anniversary was always going to be difficult."
Former Sittingbourne Community College teacher Carl, of Harrier Drive, was just 33-years-old when he was killed on the French administered island of Reunion last November.
The couple were initially told their son had died after falling into a ravine, but a week later they received the news the former Royal Marine had been murdered.
To date no arrests have been made.
Last month the family received a dossier of information about how the French police handled the investigation into Carl's death.
But they face paying £2,700 to get it translated as it's written in French. As they cannot show it to anybody else because of a confidentiality contract the only person who can translate it is their lawyer who will charge them a fee.
Mr and Mrs Davies applied to the judge four weeks ago to get permission for them to be able to show it to a third party to get it translated but they are still awaiting an answer.
Carl's sister Kerrie says they won't give up the fight to get justice for him.
She said: "It's still so raw and he's missed so much, it's heartbreaking. If we don't wake up with that fighting spirit in our hearts it's over and we can't let that happen."
More than 2,500 people have signed a petition demanding information about the death of Carl Davies, pictured.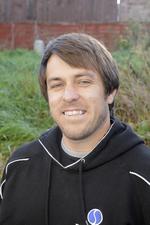 The e-petition, which was set up by Carl's sister Kerrie Stewart on September 10, needs 100,000 signatures for it to be debated in the House of Commons.
An opening statement written by Mrs Stewart says: "We want the government to help us all they can and not keep fobbing us off with 'we have no jurisdiction in their country'.
"French police can come here and conduct investigations into murder but we can't go to France and do it. My brother, an ex-Royal Marine who fought for his country, is now being let down by his country."
To sign the petition, go to http://epetitions.direct.gov.uk/petitions/38382