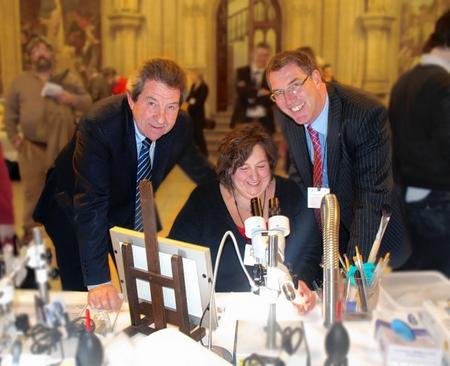 A unique conservation project has been helping MPs discover first hand the secrets of Kent's Anglo-Saxon past. Hayley Robinson found out more
A week-long exhibition at the House of Commons has demonstrated work to preserve artefacts excavated from The Meads Anglo-Saxon cemetery.
Equipment used by conservation group CSI: Sittingbourne, to examine and conserve the items, were on display.
Politicians were also given the opportunity to squint down microscopes, identify rare objects and scrape away layers of clay from a selection of metal, wood and cloth artefacts unearthed in 2008 from the cemetery in north Kent.
They were helped in their task by professional conservators from the group who have spent the last three years working alongside local volunteers to preserve hundreds of rare finds in a redundant unit at The Forum shopping centre.
Dana Goodburn-Brown, who leads the team, said: "The exhibition proved very popular with everyone who visited.
"They certainly kept us busy answering questions about our scientific techniques and discoveries, and explaining the history behind the artefacts."
Culture Secretary Maria Miller said: "I think it's fantastic to see the work that Dana's done in taking the history of Sittingbourne right into the community and giving people the opportunity to find out for themselves more about such an important part of the community's past.
"Her enthusiasm is infectious and bringing this exhibition into the House of Commons has just shown a great many more MPs how you can really get your community working on important historical projects like this."
The event, held in the Upper Waiting Hall, was hosted by Sittingbourne MP Gordon Henderson, who had to jump through several administrative hoops before the exhibition was given the go-ahead.
He said: "The House authorities are very careful about whom they allow in and the type of exhibition.
"There are only a couple of dozen a year and you start the process by entering a ballot, so straight away you've got the luck of the draw.
"But I think that when they saw that it was archaeologically-based, they thought that this was a golden opportunity to have something different here."
It is hoped the event will help raise awareness of the group's work and attract future funding for the project.
CSI: Sittingbourne is a partnership between Canterbury Archaeological Trust and Sittingbourne Heritage Museum;
Around 2,500 artefacts were uncovered by the Canterbury Archeological Trust at The Meads site in Sittingbourne before building work started there;
The laboratory was set up at The Forum shopping centre, High Street, Sittingbourne, in 2009 so the treasures found inside Anglo-Saxon graves could be conserved in the public eye;
A team of volunteers carry out the conservation work but the future of the project relies on sufficient funding being available;
Shoppers can usually visit the project three days a week, on Tuesdays, Thursdays and Fridays;
It is believed to be the only shopping-centre based conservation project in the country.