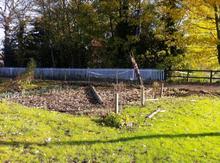 by Hayley Robinson
People living in nearby cottages rushed to help a driver and his passenger after their van crashed into a telegraph pole.
The Ford Escort was being driven along Church Street, Rodmersham, at 7.10pm on Monday when it was hit by a stolen Mitsubishi 4x4, which then sped off before being found alight in Panteny Lane, Bapchild.
The impact caused the van to hit the pole sideways on the driver's side.
A 21-year-old man and a 16-year-old girl were inside the vehicle, which ended up in the front garden of the three cottages.
Gladys Baldock's husband Stanley, 83, ran outside to help as soon as he heard the crash.
Mrs Baldock said: "I didn't have my hearing aid in at the time so I didn't hear a thing but my husband got up and I thought where the hell is he going? He told me there was a tremendous bang.
"I stayed indoors but he went out with our neighbours, who took the couple into their house until the emergency services arrived."
One appliance from Sittingbourne fire station was called to the incident.
Crews put a neck brace on the girl and gave her oxygen until South East Coast Ambulance service arrived.
Both patients were taken to Medway Maritime Hospital in Gillingham for treatment.
The teenage girl was taken as a priority as she had a suspected head injury.
The man's injuries are not known.
Retained firefighters from Rainham, who were training at Sittingbourne fire station at the time, were sent to the car fire.
The road was closed to traffic for about two hours.
A BT engineer was sent to Rodmersham to secure the telegraph pole, which was broken in the crash.
The three cottages were left without land lines as a result of the damage.
Police say the 4x4 was registered as stolen from an address in Chestnut Street, Borden.
It was taken some time between 6.30pm on November 11 and 7am the following day.
Anyone with any information is asked to call Kent police on the non-emergency number 101 quoting 12-1420.