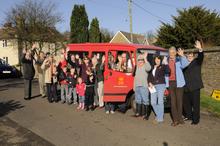 By Hayley Robinson
Saturday marked the end of an era as the Postbus service made its final journey.
The service, which takes mainly elderly people from Wormshill, Milstead, Frinsted and Highsted into Sittingbourne Town Centre twice a day during the week, was run by Royal Mail and funded by Kent County Council. But Royal Mail decided to end the contract because it claimed only a small number of people used it.
All is not lost though as a minibus will replace the service after Conservative county councillors Mike Whiting, who represents Swale Central, Keith Ferrin, who represents Swale West, and Jenny Whittle, who represents Maidstone Rural East, all agreed to fund the service three days a week using money from their Members Highways Fund.
Club Taxis in Sittingbourne will provide the minibus. It will make its first journey tomorrow when it picks up the first lot of passengers from outside Wormshill post box at 10.45am. It will then stop outside Frinsted post box at 10.55am, Milstead Village Hall at 11.05am, Highsted Valley post box at 11.15am, Sittingbourne Memorial Hospital at 11.20am and Mill Court in Peregrine Drive at 11.25am before making its way to Central Avenue to drop everyone off.
While the bus can only take eight passengers at a time it has been agreed that the minibus will go back for the other passengers after making the first drop off.
The service will run every Tuesday, Thursday and Friday and the minibus will pick passengers up from the taxis rank in Central Avenue at 1.45pm and take everyone back to their homes.
Hazel Stanley, a Frinsted resident who fought to keep the Postbus running, will manage the first journey.
Cllr Whittle said: "I am delighted we are able to do this.
"It will cost about £6,300 a year to run, although it will cost slightly more if the minibus has to make extra pick ups. We will able to fund it for one year possibly two but we do need to find a long-term solution so we can get the service to run five days a week and we are in discussions with bus companies and working with residents to find that solution."