by Stephen Waite
A former head teacher says he is "thoroughly disgusted" that a visit to his previous school's nativity play has been blocked by senior management.
John Day (pictured left), who held the reins at Regis Manor School for eight years, claims he has been told it would be "inappropriate" for him and former deputy head Wendy Woodford to attend.
Mr Day left the Sittingbourne school suddenly in May when he retired earlier than intended after being asked to stand down by Jon Whitcombe, principal of the Swale Academies' Trust, of which Regis Manor is a part.
His deputy retired in July. Since then, Mr Day says he has voluntarily led a Year 6 trip and helped at the Year 6 leavers' prom.
But a request to watch this year's nativity, made "as a matter of courtesy" to the school's management team said Mr Day, was turned down by Mr Whitcombe.
"His response was that any such visits to the school were deemed to be inappropriate and our presence would be seen as unwelcome.
"Needless to say, we are both thoroughly disgusted and deeply disappointed with his decision and cannot understand why our presence would in any way be seen as problematic.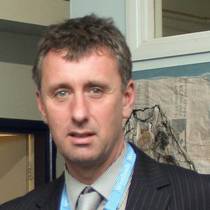 "Is this the thanks we deserve for the many years of hard work in helping to improve the lives of the children and parents in the local community? So much for Mr Whitcombe's Christmas spirit and it being the season of goodwill!"
Mr Day said he had signed a legal document when he left Regis Manor which included clauses restricting what he could say about the reasons for his departure.
In response to Mr Day's complaint, Mr Whitcombe said: "I can confirm that Mr Day approached a junior member of the Regis Manor leadership team in late November with a view to visiting the school in December.
"Mr Day at no point made direct contact with either myself or the head of school to arrange to visit the school, which would be the expected professional etiquette if he wanted to arrange a visit."
Commenting on why he had blocked the visit, Mr Whitcombe (pictured above left) added: "I can confirm that a legal agreement is in place which is binding upon both the school and Mr Day.
"Due to matters, which are of a confidential nature, Mr Day's presence at Regis Manor would be inappropriate for the foreseeable future.
"For legal reasons the school is not prepared to comment any further at the stage."