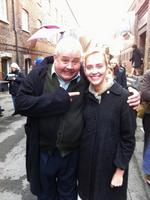 by Hayley Robinson
Fans of the Sunday night drama Call the Midwife might spot a familiar face when they tune into the new series next year.
Former Fulston Manor School pupil Amy Griffith is set to appear in the BBC1 programme after landing her first professional acting job.
The talented 18-year-old rubbed shoulders with the stars of the show, Jenny Agutter, Pam Ferris and Miranda Hart, when filming took place at the Historic Dockyard, Chatham, towards the end of October.
She plays the part of a sailor's wife greeting her husband on his return from a tour of duty in episodes three and seven of the second series due to be screened in January and February.
It was Amy's second visit to the set as she was filmed in July for the opening sequences of the drama with Jessica Raine, who plays the lead role of Jenny Lee, cycling past her. She has also played a bridesmaid in a wedding scene.
Amy, who is currently a student at the Black Hole Academy of Acting in Canterbury, part of the Canterbury Academy, said: "I was very happy and excited to be on the set of Call the Midwife – it was such an adrenaline rush.
"I started work at 7am and it was very cold on set, especially as I was wearing a flimsy, old-fashioned dress.
"I had my hair curled and scraped right back from my face and didn't have any make-up on apart from lipstick.
"The scene showed me on a bridge running towards my husband and embracing him and there was a close-up shot of us too.
"My role in the programme has really shown me how much I want to act and it was fantastic to meet the stars."
Her favourite actor was Cliff Parisi, better known as Minty from EastEnders, who she spoke to after taking part in a scene where she was pushing a pram.
She added: "He went out of his way to make sure everyone was happy and he didn't take himself too seriously."
Sarah Stanton, director of the Black Hole Academy of Acting, said: "Amy is an incredibly talented young lady who I'm sure will have a successful career in the performing arts."