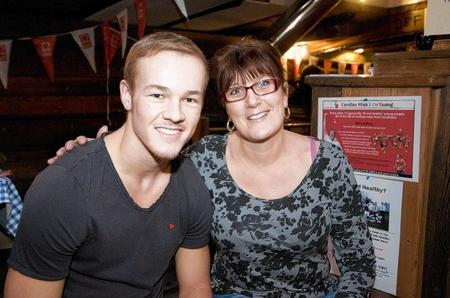 by Lewis Dyson
An Iwade woman recently diagnosed with a rare heart condition met a fellow sufferer after reading about him in the Sittingbourne News Extra.
Corrina Tucker, of Evergreen Close, only found out she had Wolff-Parkinson-White syndrome on November 3, after she had a heart scan, prior to an operation on her hand.
The defect, an abnormal pathway in the heart for electrical pulses that make it beat, can lead to dizzy spells or shortness of breath but can also trigger a potentially fatal heart attack.
Mrs Tucker read about 20-year-old George Mannering and saw that his mother, Jane Gransden, was holding a get together on the Edith May barge in Lower Halstow.
The 51-year-old said: "I had never heard of anyone having it before and reading it I thought 'How strange, there's a lad from Sittingbourne who has it as well'.
"I thought he was only 20, bound to be on Facebook, and sent him a message and turned up for the fundraiser.
"It was lovely. It's a shame that he's had a couple of operations that have been unsuccessful. I hope it doesn't hold him back too much.
"It's a very strange feeling to get to 51 and find out you've got a heart problem you've had from birth."
The charity gathering last Tuesday raised £800 which will be split between the British Heart Foundation and Cardiac Risk in the Young (CRY).
A raffle included prizes of a signed Kent Cricket bat, Christmas cake, golf lessons and a lunch trip on the Edith May.
There was also a bring and buy sale, second hand books, teas and coffees and homemade cakes.
Mrs Gransden, who owns the barge with husband Geoffrey, said: "It was heaving at one point even though the weather was absolutely atrocious.
"It rained all day but it didn't deter people and lots of people who made promises to be there. It was wonderful.
"A big thank you to everyone who were so generous with their donations, time and support."