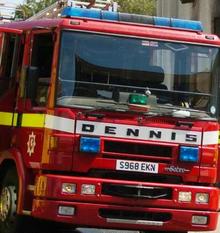 By Hayley Robinson
A fishing platform at the Church Marshes Country Park has been completely destroyed by fire.
Sittingbourne firefighters were called to the lake at 7.15pm last night after a resident, whose house backs on to the marshes, spotted smoke.
On arrival they found the heavy duty plastic platform was already well alight.
Unable to get the fire engine close to the lake due to restricted access the crew was forced to tackle the fire with buckets attached to lines.
They then used water from the lake to douse the flames. After an hour the fire was finally out.
Mark Innes, green watch manager for Sittingbourne fire station, said: "It's heavy duty plastic so it would have been very difficult to set light to but there was nothing left of it at the end except stumps in the ground
"The plastic was dripping in to the water and creating an oil slick effect but there was nothing the crew could do about it because the platform was actually over the water - plus the fire was very hot and they couldn't get too close.
"I don't know whether any wildlife or fish would have been affected by it.
"Last year we were called to the lake after someone set light to the heavy duty plastic platforms which had been delivered to the site, so this is the second time we've been called out there."
A spokesman for Swale Borough Council said: "Our officer visited the lake the following morning and found that it was a fishing platform that had been destroyed by fire, and not a walkway as first feared.
"It appeared that a fire had been set nearby and it's possible that this is connected with the fired fishing platform.
"We will be contacting the Police Community Support Officers who have been instrumental in cutting down motorbikes on the site, and we will also contact the fishing club that has a licence from Swale Borough Council for the exclusive use of the lake.
"The platforms are not wood, but a man-made material which is slower to burn than wood therefore it would have fewer timber-related insects associated with it, and we are hopeful that any sheltering small mammals would have been able to escape.
"Our officer is also fairly certain that the fish would have all gone to the bed of the water and would have survived."