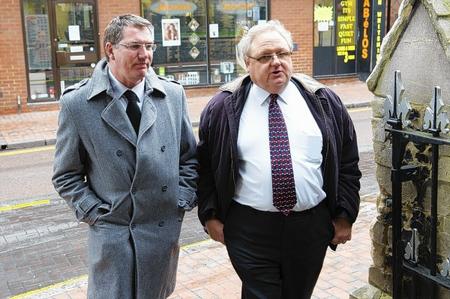 An extraordinary lady who epitomised the very best of the British selflessness – that's how Gordon Henderson described charity stalwart Joyce Fuller.
The MP made the comment as he paid tribute to the 88-year-old during a thanksgiving service held in her memory at St Michael's Church, High Street, Sittingbourne, last Wednesday.
The grandmother of two died from pneumonia on New Year's Eve leaving friends and family shocked.
Mr Henderson said: "She was a gentle woman, mild mannered and softly spoken, but incredibly tough. The last time I saw Joyce was in November at the count for the Kent police commissioner.
"Her last words to me were to tell me how much she was looking forward to coming to the garden party that I am organising this coming summer and that she had put the date in her diary already.
"It is immensely sad that Joyce will not be able to attend my garden party after all.
"It simply won't be the same without her sitting quietly on a chair in a corner sipping a glass of white wine, watching everything that is going on around her through those shrewd eyes of hers."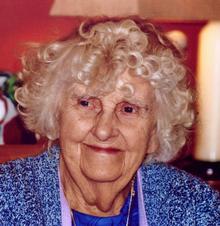 About 150 people attended the service, including Cllr Andrew Bowles, leader of Swale council, and the Mayor of Swale, Cllr Pat Sandle.
Her son Geoffrey described his mum as being "quite feisty" during the eulogy.
He said: "One of her friends wrote to me saying 'I am one of many who were variously charmed, impressed – and browbeaten – by your mother'.
"She was very sociable and particularly enjoyed meeting new people. She was a great one for sitting up late into the night – with a cherry brandy or a Baileys – and chatting away, putting the world to rights.
"She had a very strong sense of fairness, and of right and wrong. But above all else, it was her very deep love for her family that will be my most abiding memory of her.
"She often said 'You only get out of life what you put into it', and she was one of the best examples of that I have known. She will be very deeply missed."
Mrs Fuller, of Berkeley Court, Sittingbourne, was a well-known town figure.
Up until she died she was vice-president of the Sittingbourne Society, president of Swale Footpaths Groups and a member of the joint governing body for The Oaks Infants and Minterne Junior School.
She was also a lifelong active member of the Sittingbourne and Sheppey Conservative Association where she was deputy chairman with special responsibility for Conservative Policy Forum discussion.
After losing her husband Bill, aged 58, to a heart attack in 1978 the widow set up the Swale and Sittingbourne branch for the British Heart Foundation charity in 1984.
Over the years she organised various fundraising events such as sponsored swims, walks and skipping events, generating £250,000 for the foundation.