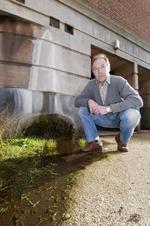 by Hayley Robinson
A puddle caused by a leak from an overflow pipe has been branded a health hazard.
Barry Kinnersley claims the water has been dripping out of the pipe at the side of the Mecca Bingo Hall in Sittingbourne High Street for more than a year.
The constant damp conditions mean there is moss growing up the side of the wall and even grass growing in the water itself which has pooled directly outside a fire exit.
As it is close to a public footpath, which runs between the rear of the hall and St Michael's Church, Mr Kinnersley says that at times it is near impossible for people to walk along there as the walkway because it is deluged.
The 69-year-old, of College Road, Sittingbourne, said: "I've been in to the bingo hall two to three times over the last three months.
"Each time the manager has said they're going to sort it and thanked me for bringing it to their attention but nothing has been done. It's disgusting. It's not causing a problem for the church but it's building up against the wall of the bingo hall.
"You could put some frogs in there now and they would be quite happy."
Justin Newin, who took over as manager of the bingo hall six weeks ago, wasn't aware of the problem until the News Extra brought it to his attention.
After investigating he believes the water may be coming from pipework connected to the old cinema which they don't have access to.
He said: "It is over the top of our disabled toilet but I've looked at the cistern and it's fine.
"Sometimes it's difficult to know where they're pipes start and ours begins but I will get it looked at. I will get in touch with the owners and let them know – I've got their contact details. I will get it sorted."