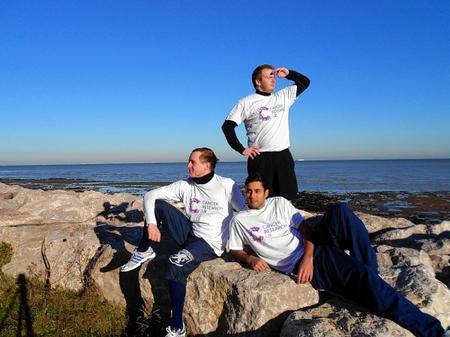 Three school friends are appealing for help to turn a fundraising dream into a reality.
Cymon Williams, James Kent and Steven Bond, who were in the same year at The Westlands, want to take part in a series of sporting challenges to raise money for Cancer Research UK.
The Sittingbourne mates are aiming to play three different Kent golf courses in one day, complete the London to Brighton bike ride and swim the length of the English Channel between them at the town's Swallows leisure centre.
Another possibility they are looking into is the Total Warrior army-style assault course.
The idea originated from a charity football tournament held for the past six years in memory of two of James' grandparents who lost fights with cancer.
Looking to do something bigger, each of the lads added something else.
Hopes of swimming the Channel were blown out of the water when the cost of hiring a pilot to sail alongside them for safety rocketed to £2,000.
The trio need equipment to make it all possible and have written to companies asking for funding in return for them advertising their product during their training.
So far, Callaway Golf has donated clothing, Titleist Golf sent some balls and Sittingbourne firm CAT Automotive, where James works, has agreed to supply accessories for the cycling event.
They are struggling to find a company to make a big enough donation for road bikes.
Cymon, 22, of Burley Road, Sittingbourne, said: "It's a challenge. We have all come from not being the fittest of guys to training five days a week, so we will be a lot fitter and healthier and hopefully raise a lot of money so it's a win-win.
"We started our training two months ago and it was the first time I have been in the pool in two years, pretty much the same with cycling."
To sponsor the group go to www.justgiving.com/thelonghaul or to find out more visit @thelonghaul66 on twitter or search The Long Haul on Facebook