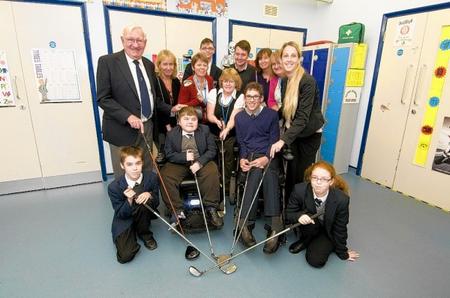 Generous golfers clubbed together to provide a donation towards the welfare of disabled children at a town school.
David Blackman and Norman Fisher, of the Society of Kent Golf Captains, visited The Westlands last Tuesday to hand over £1,000 to the Pyramid Centre, a specialist centre for physically disabled pupils.
The money will be spent on a reclining chair for pupils to use while receiving physiotherapy.
The presentation was watched by all the unit's students.
They also got the chance to speak to the two representatives and were allowed to hold a golf club, for many, it was the first time they had done so.
The school's special educational needs coordinator, Jo-Dee Lofthouse, said: "The teaching assistants do a wonderful job with the children and we are all most grateful for the donation to the unit."
To find out about places at the unit, contact Miss Lofthouse via the school on 01795 477475.