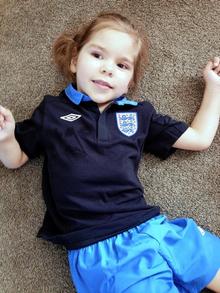 by Hayley Robinson
On December 21, 2007, at 6.29am Lola Stockdale was born.
It should have been a totally happy occasion for her parents Kellie Humphrey and Noel Stockdale, but instead they were filled with anxiety and fear.
Their newborn had been starved of oxygen and blood for 55 minutes due to a prolapsed cord.
Seven minutes after entering the world she took her first breath and was whisked off to intensive care, where she was placed on a cooling mat and connected to a feeding tube.
Kellie, 33, said: "I sat by her side for hours telling her she is beautiful and that one day she will shine and show the doctors what she can do."
Scans revealed some abnormalities but it wasn't until she was about seven months old that she was diagnosed as having four-limb cerebral palsy, global development delay and cerebral vision problems caused by her birth trauma.
Her condition means she is unable to walk, talk or feed herself.
The four-year-old relies on a wheelchair to get around and wears glasses to see.
In a bid to improve her quality of life, Kellie and Noel have started a campaign called Lola's Journey, to raise £50,000 so the youngster can undergo stem cell treatment in America.
This involves taking cells and implanting them into the brain, to act as a repair system.
The couple will cover the flight and accommodation costs themselves.
To date nearly £9,000 has been raised thanks to various fundraisers and donations.
Former Fulston Manor pupil Kellie, whose parents live in Harold Road, Sittingbourne, said: "Lola is a very happy little girl and enjoys being surrounded by the people she knows.
"She has a wicked sense of humour which makes her such a character.
"She brings so much joy to the family and is keen to try new things, which is why I am determined to help her have stem cell therapy as I really do believe this will give her more potential in life which she so deserves.
"Some people have been known to walk after undergoing the treatment but I'm not getting my hopes up. Even if she can use her hands or is able to sit unaided that would be something for us.
"She is just gorgeous and beautiful and I love her to pieces. Even if nothing comes of it at least I can say we tried."
To support the campaign, visit www.lolasjourney.com or www.facebook.com/lolasjourneycharity