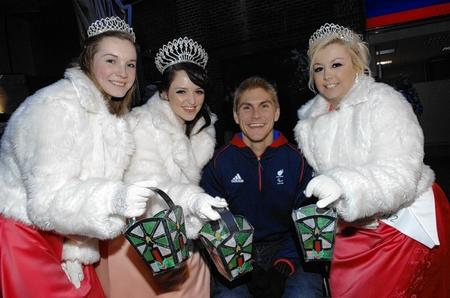 by Hayley Robinson
The town centre is awash with colour thanks to the Christmas lights switch-on.
Paralympian Steve Brown had the honour of flicking the switch in the High Street on Saturday and he was joined on stage by Father Christmas, Swale mayor Cllr Pat Sandle and Miss Sittingbourne Laura Petch.
The afternoon also featured a parade from the West Street end led by the Sittingbourne Boys' and Girls' Brigade Band and including Father Christmas, Sittingbourne Carnival Court and the Distinction Twirlers.
There were also stalls and funfair rides throughout the day, as well as music courtesy of community radio station SFM.
This year's switch-on and parade were brought forward an hour compared to previous years.
It's thought the move may have contributed to a higher number of spectators staying to watch.
Lights association secretary Pam Griggs, who thinks there could have been up to 600 people present, said: "Usually by 3pm on a Saturday the High Street is empty but I think people decided to stay because the parade was at 3.15pm followed by the switch-on.
"I think we will do the same again next year as it seemed to keep people in town. All in all it went quite well and we're pleased with how it went.
"I've not had anyone say anything nasty. There were quite a few comments beforehand though, people saying the lights were different and they looked good.
"There's a variety of lights this year because it's a new contractor. We inherited some lights from the old one but the majority that have gone up are new."
To help raise funds for the lights, Father Christmas has been recruited to take part in the association's annual sleigh rounds around Sittingbourne and the surrounding area until December 21.
Association members will also be collecting donations at Sittingbourne's Asda on December 15 and the town's branch of Sainsbury's on December 22.
Money raised will go towards next year's display.
Mrs Griggs added: "We need to raise over £10,000 if we want to improve it and do extra things.
"What we do next year very much depends on how much we raise throughout the year."
For more pictures see this week's Sittingbourne News Extra - out Wednesday and Friday's Sittingbourne Messenger.