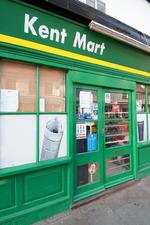 by Hayley Robinson
Police are still hunting an armed robber who made off with about £300 after holding up a shop in Milton Regis.
As reported last week, the man had a small handgun when he walked into the Kent Mart store in the High Street just before 6.50pm on December 10.
It's understood he pointed the weapon at a man who was working alone behind the counter before shouting at him three times to hand over money.
When he eventually did, the raider demanded he also give him the mobile phone which was on the counter.
He smashed it before leaving the premises.
The alarm was raised when the shaken worker banged on the door of the flat above the shop and asked the man living there to call the police.
Store owner Arun Arulparam said: "I wasn't there at the time but arrived shortly afterwards.
"The worker was very shaken and shocked. He's only worked there about a month.
"It was normal opening times when this guy just walked in and threatened him with a gun.
"He asked for the money then asked again. I think he [the shop assistant] was shocked, he didn't know what he was doing because it was apparently the third time he asked for the money that he opened the till and handed it over.
"Then he asked for the phone and smashed it up, I don't think he wanted him to be able to call the police. He was very brave.
"The whole thing is shocking. Hopefully the police will find him."
The robber was seen on CCTV before entering the shop wearing a grey hooded top with the word Oregon written on it.
When he carried out the robbery he was wearing a white crash helmet with a black motif on the back. He was also carrying a black and white Nike holdall.
He is described as white, 6ft 2in and heavily built.
n Anyone with any information is asked to contact Det Con Donna Hopper by calling the non-emergency number 101 and quoting reference XY/037797/12.