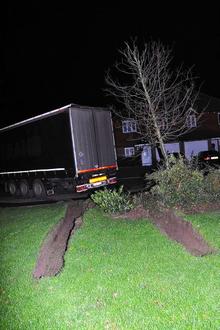 by Hayley Robinson
How many people does it take to get a lorry out of a tight spot?
Four police officers and a Bulgarian translator.
No, it's not a joke. All five people were needed to help a foreign HGV driver after he got his vehicle stuck in Chetney View, Iwade, and hit a tree.
Just moments earlier, residents witnessed him hit a road sign in Stangate Drive before driving off and causing damage to a grass verge as he tried to turn the vehicle around.
He then headed back along Chetney View, the same way he came, but instead of turning left into School Lane to leave the residential area he carried on going getting himself stuck once again.
It was as he tried to turn around and the trailer hit a tree and shrubbery that an off-duty Metropolitan police officer who was in the area at the time, intervened.
It's understood he contacted his station and requested a Bulgarian translator to speak to the man over the phone to get his insurance details.
But that wasn't the end of the sorry nightmare.
Parish councillor James Hunt said: "Once it was all sorted out he got in the lorry and drove off then hit a car 50 yards down the road. The Metropolitan officer said he was getting Kent police to take over.
"A police officer came out but she said the driver hadn't done anything wrong and he was free to go as insurance details had been swapped.
"People weren't happy with that so they put a call in to Kent police and more officers were called out and they took statements before leaving.
"Residents have since lodged a complaint as they feel the officers didn't deal with it properly as people have photographic evidence of the driver getting out of his vehicle and inspecting the sign he hit before driving off which is leaving the scene of an accident so an offence was committed."
A spokesman for Kent police said: "Inspector Evan Jones attended last night's local engagement forum meeting in Sittingbourne where he raised the issue of sat navs taking drivers up unsuitable routes with the relevant agencies.
"A complaint had been received and as it is the subject of an ongoing internal investigation, no further comment will be made."
The village has been plagued by lorry drivers since August.
Despite clear signs that vehicles weighing more than 7.5 tonnes cannot enter Iwade, they have still been making their way through before finding themselves tightly wedged in narrow residential streets.
It's thought sat nav instructions are to blame. The parish council is looking into buying its own signs which may feature either a lorry or a sat nav with a red line through it.
They will be placed at the three entrances into the village – Sheppey Way, Old Ferry Road and Grovehurst Road.
The matter will be discussed when members meet at the village hall, in Ferry Road, at 7.30pm on Wednesday.