A man has been arrested after six dogs were stolen in Sittingbourne within just a week.
The 22-year-old, from Sheerness, was held after the spate of pet nabbings in the area.
Kent Police said officers want to trace the driver of a white panel van spotted near the scene of many of the thefts.
Among the dogs stolen was a 13-month-old pug - snatched from its teenage owner.
Dylan Draper-Dunn was walking the pug bitch along Gore Court Road, Sittingbourne, when he heard a man behind him mutter the words "my nan had one of those dogs. It was stolen".
He kept on walking, but moments later the man was in front of him unclasping the lead and scooping up the dog on Wednesday, January 23.
The 15-year-old tried to grab the pet, which answers to the name of Jerry, but it was thrown over a garden fence.
The thief then raised his fist at Dylan and threatened to "smash his face in" before jumping over the same fence.
The Westlands School pupil called his mum Tracey, and the mother-of-two, who was at the family home in Park Road, called the police.
Her partner John Dunn, 43, met up with Dylan and carried out a search of the area but to no avail. They are now offering a £500 reward.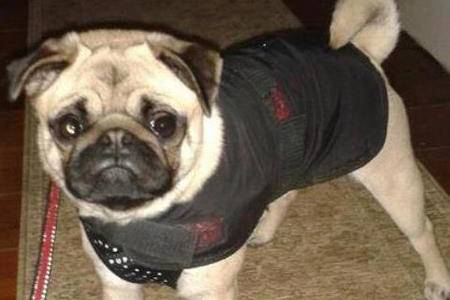 Five other dogs have been reported stolen in Sittingbourne between Tuesday, January 22 and this Tuesday - although four of the animals now been found safe:
An English bull terrier called Stanley reported missing from a garden in Borden Lane between 12pm and 12.15pm on January 29. Stanley was found safe and well in Chaucer Road, Sittingbourne at around 3pm.
An Alsatian bitch called Kelly reported missing from a farm in School Lane, Iwade, between 11am on January 26 and 10.30am the following day. Kelly is still missing and the inquiry into her theft is ongoing.
An 18-month-old Staffordshire bull terrier called Spikey was taken while out for a walk with his owner between 4.40pm and 4.45pm on January 25. It is alleged the dog was beckoned into a van by a man when he was let off the lead. About half an hour later Spikey returned home on his own, but he was not wearing his harness.
A chocolate brown female Labrador called Murphy was being walked on a footpath in Raspberry Hill Lane, Iwade, at around 4.30pm on January 23. Murphy was off the lead and ran off, before being picked up and thrown onto the back of a flatbed van. The owner walked around the area and later found Murphy and took her home.
A Pomeranian dog called Bobby went missing from the back garden of a house in Gadby Road, Sittingbourne, between 10pm and 10.10pm on January 22. Bobby was found by the dog warden at a house in Sheerness. They were able to reunite Bobby with his owners because he was microchipped.
DS Jo Kirkham, from Kent Police, said: "We fully understand the devastating impact this has had on the owners and are following up a number of lines of enquiry in an effort to reunite them with their dogs.
"We also fully appreciate the anxiety that these thefts have created with dog owners in the area and we will continue to do everything in our power to put a stop to these crimes and arrest those responsible.
"We would like anybody who may have witnessed any of these thefts, seen this white van or who have any information at all to come forward and let us know, as even the smallest bit of information could help."
The man arrested on suspicion of theft has been released on police bail pending further inquiries until Wednesday, February 27.
Anybody with information is asked to phone Kent Police on 101, quoting crime reference XY/2555/13, or Kent Crimestoppers, anonymously, on 0800 555111.