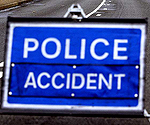 A car ended up on its side in a ditch on the M2 after a crash in the early hours of this morning.
It happened between junctions five and six - Sittingbourne and Faversham - at 3am.
Two cars were involved in the accident - it's thought one was parked on the hard shoulder.
Firefighters rescued a man from the ditch and paramedics treated three people at the scene.