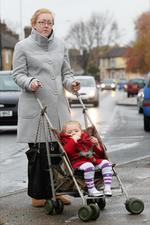 by Hayley Robinson
A mum who claims she was forced to stop traffic so she could cross a busy road with her toddler has started a safe crossing petition.
Sian Chapman says she had been waiting 10 minutes with her 22-month-old daughter Amelia to cross Murston Road, Murston.
After telling the tot to stay on the pavement with the buggy, the 23-year-old, of Shortlands Road, Sittingbourne, stepped out into coming traffic about 4.30pm last Wednesday.
She said: "I was just waving my arms around like a lunatic and shouting at people to stop. Even Ameila was shouting 'stop cars'.
"The traffic did eventually stop. I then called Amelia over to me and walked her over to the other side of the road, where I told her to wait.
"The buggy was still on the opposite side so I had to go back and get it. This time it was easier to get across because the motorists had seen what was going on.
"I put myself in grave danger for the sake of letting my child cross safely. Action has to be taken.
"On one occasion while trying to cross with my daughter, who at the time was a few months old, a van came speeding down the road and almost hit my pram, leaving me and other witnesses very shaken.
"There's no crossing there at all and it's probably one of the longest stretches of roads in Sittingbourne."
Mrs Chapman is now calling on Swale council and Kent County Council to install at least two crossings along the road.
She said: "I'd like to see a zebra crossing or a pedestrian crossing, especially when you consider the fact Canterbury Road primary school isn't too far away.
"We could do with one near the Canterbury Road end and another up by the Co-op, which is just past the railway bridge.
"At the moment you've just got to take your chances when crossing."
Mrs Chapman will be knocking on doors in the area over the coming days asking residents to sign the petition.
It can also be signed at Woodberry Drive Stores, Murston Newsagents, in Murston Road, and the Co-op, in Church Road.
n What do you think? Write to Sittingbourne News Extra, 44 High Street, Sheerness, ME12 1NL or email sittingbourne@thekmgroup.co.uk