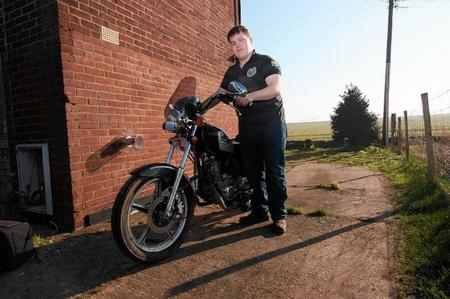 A mum has issued a plea to the driver who knocked her son off his motorbike and drove off to "come forward and be honest about what you've done".
James Geer was going straight on at the roundabout at the junction of Brenchley Road and Bluebell Drive, Sittingbourne, when a silver car waiting to exit Fulston Manor School car park pulled out and hit him.
Witnesses raced to help the 17-year-old, who was left on the road injured. The driver did not stop.
The vehicle was last seen driving off towards the new Eden Village development.
Fulston Manor sixth-former James was returning from his grandparents' house to his home in Wrens Road, Borden, when the accident happened at about 5.45pm on Thursday last week.
He was taken to Medway Maritime Hospital, Gillingham, where he was checked over.
Luckily James only suffered muscular pain but his bike – a Huoniao 125cc which he'd had bought three weeks previously – was badly damaged.
Mum Michelle was at home when one of the women helping James called her from his mobile.
The 42-year-old said: "She informed me he had been hit by a car. I was shocked. I just thought 'oh my God'.
"I just wanted to get off the phone and get to him as fast as I could. She said he was all right and that he was breathing and the ambulance was on its way.
"When I arrived there were quite a few people there. Witnesses say they saw him come of the bike and then they heard him screaming.
"Thankfully, he had on the right equipment – protective biker jacket, gloves, boots and helmet."
A piece of bodywork, believed to have come from the car which hit James, has been passed on to investigating officers.
A Kent Police spokesman said: "We are appealing for witnesses. We are looking for a silver saloon car that has significant damage to the front bumper."
Anyone with information should call PC Michael Guard on the non-emergency number 101 quoting reference number CAD 14-1132.