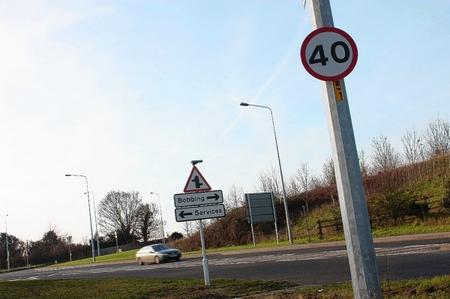 The speed limit has been reduced on a notorious stretch of road.
The 60mph zone had already been downgraded to 40mph along Sheppey Way from Bobbing village to the junction opposite McDonald's.
Now, this has been extended from the same junction over the railway bridge ato the Key Street roundabout,which leads up to the A249.
Kent County Council (KCC) agreed to extend the existing limit following a campaign by Lloyd Chapman.
His son David almost died in a car accident on the stretch in 2005.
Tragically, mum-of-one Claire Mackinnon, 28, of Queenborough, was killed in a head-on smash along on road on March 30, 2011.
Mr Chapman received a letter in May last year from Cllr Bryan Sweetland, KCC's cabinet member for environment, highways and waste, confirming that following discussions with police, it had been agreed to bring the speed down to 40mph.
Work to install signs and road markings informing motorists of the new speed limit was carried out over the past fortnightwaiting for KCC.
Speaking last May, Mr Chapman said: "David was 17 and had just passed his driving test two weeks before the accident happened.
"He was turning out of Bobbing village on to Sheppey Way when his car stalled and he was hit by a van travelling from Key Street.
"He was in hospital for two-and-a-half weeks. He had a collapsed lung, brain damage, half of his bowel was removed and he had septicaemia. It took about a year for him to recover.
"Claire's death was another reason to keep fighting for it. I felt guilty because nothing had been done about it."
Ms Mackinnon's sister Kerry, 34, of Scrapsgate, Minster, said: "We drove past it on Monday and noticed the red markings and the 40 sign on the road.
"We just hope people will pay attention and it will stop others from having to go through what we went through."
Claire's son Jack was just three when she died.
"We're all doing well. Jack is five now and attending Minster Primary School. I look after him along with my mum," she said.
Mr Chapman is also the father of 16-year-old Michael, who tragically died in June 2006 after being attacked at Gore Court playing field.