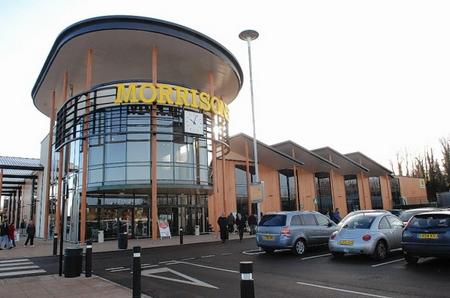 Morrisons only opened its Sittingbourne superstore on Monday but it seems its interest in the area doesn't stop there.
The supermarket giant says the former Budgens shop unit in Iwade is a site of interest for setting up an M local corrbranch in the south.
The franchise for Budgens came to an end last October and a sign has been up outside the shop since saying "new store coming soon".
At the time, manager AJ Shazad said he was in talks with two to three companies, including Premier, about taking on a new franchise but nothing ever came of it.
The store has continued to trade without a name but on Saturday night it is understood that six employees received text messages telling them their services were no longer needed.
Meanwhile, Morrisons will only say on the record that the unit is "one of a number of sites" it has looked at across the region but there are clear signs the convenience store could be due to open in the village.
A search on the website www.moreatmorrisons.co.uk reveals a job advert for "managerial opportunities in Iwade".
The post is also believed to be advertised on a notice board at the Morrisons' depot based on the other side of the A249.
The closing date for applications is tomorrow – coincidentally the same day the retail unit is due to "change hands".
However, the new owner is yet to be revealed.
The premises already has a liquor licence and this is likely to transfer to the new owner.
M locals are convenience stores which usually stock freshly prepared meat and fish, bread, fruit and vegetables plus chilled wine and beer as well as a range of everyday items from household essentials to magazines and cards.
Other facilities in store can include a cashpoint, National Lottery and Health lottery kiosks as well as self-service checkouts.
There are currently only 12 of the stores across the country – the closest one to Kent is in Birmingham.
Morrisons opened its new store this week – six years to the day since the former paper mill produced its last reel of paper.
Debbie Adams from Save the Children, Morrisons' official charity partner, marked the event on Monday by cutting a ribbon at 9am before customers were allowed in to browse and buy goods.
The new store created 300 new jobs, 100 of which went to people who were previously unemployed.
General manager Howard Saxby, who has worked for Morrisons for more than 25 years, said: "We wanted to create a store that offered customers a fantastic range of fresh products at great value to encourage them to cook from scratch."