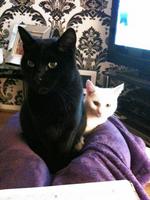 by Hayley Robinson
An animal lover is urging people to be vigilant after her beloved cat died of suspected antifreeze poisoning.
Sarah Sharp's pet Coco (pictured) fell ill within two hours of returning home last Tuesday.
She said: "He started showing signs but I just didn't put two and two together.
"He couldn't hold himself up on his back legs and he was sick two times after eating.
"He was wobbly and walking like he was drunk – it was as if he'd aged by about 20 years.
"He was very lethargic. We just thought he'd eaten something funny at first. Usually he goes out at night but he didn't want to.
"When I got him out of his bed the following morning he was wet. I thought it was sweat but it was wee. He also couldn't keep his head up by this point."
The 46-year-old took him to SittiVets, Castle Road, Sittingbourne, where tests revealed he had been poisoned by the chemical which is made mostly of ethylene glycol and is highly toxic to humans and animals.
Coco, three, was kept in for treatment but by Friday Mrs Sharp and her husband Darryl were forced to make the heartbreaking decision to put the cat down as his condition wasn't improving.
The couple, who live in Murston, say they have no reason to believe their pet was deliberately poisoned but are warning other cat owners to be on their guard.
Mrs Sharp, who has two other cats, added: "The vet didn't think it was malicious. She explained cats only have to walk on the road where there's been a spillage then lick their paws to ingest it.
"Also, another way of a cat being exposed to antifreeze is sitting under a car and a leak in a radiator drips on their fur and then they start grooming themselves.
"Just a quarter of a teaspoon is all that's needed to kill a cat, which is not a lot.
"All I ask is that if anyone spills any antifreeze they make sure they wash it away with hot soapy water. We don't want anyone else to have to go through what we've been through."