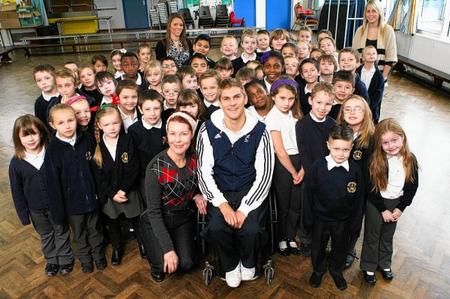 Paralympian Steve Brown shared his inspirational story with children at Regis Manor Primary School on Monday.
The captain of Great Britain's wheelchair rugby team, who led the squad in the London Paralympics, told Year 3 pupils about the importance of teamwork and playing to their strengths.
Steve broke his neck in a fall from a balcony in Germany in 2005 and got interested in wheelchair rugby, known as 'murderball', while rehabilitating at Stoke Mandeville Hospital.
Regis Manor head teacher, Claire Wood, said: "The children were all enthused by Steve Brown's visit and enjoyed the team building games he played with them.
"They were very positive about the things he said about making an effort and always looking to what your strengths are."
Year 3 pupils are creating a giant jigsaw at the Middletune Avenue school to celebrate the 2012 Olympics and Paralympics for community charity, The Beat Project.
Steve later gave a talk in assembly to the whole school encouraging children to get involved in sport and telling them how important it was to do their best at all times.