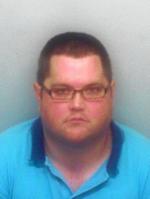 by Keith Hunt
A pervert who downloaded sex abuse images of children and distributed them to others has been jailed for two-and-a-half years.
David Parish was told by a judge: "You were an enthusiastic participant in this evil exchange."
The 34-year-old, of Millfield, Sittingbourne, admitted two charges of making indecent images of children, two of distributing the images, five of
possession with a view to distribute and possessing extreme bestiality porn.
More than 800 indecent images were recovered from computer equipment and there were 1,200 movies with a total length of four days.
Maidstone Crown Court heard Kent Police received information from Surrey Police that Parish's email address was offering to share the pictures.
When officers went to his home he admitted it and said: "I hope you catch the others."
Prosecutor Keith Yardy said Parish added he found the images while looking at adult porn and became sexually aroused by it.
He said he preferred watching movie clips of young girls and boys aged 10 to 13. He chatted online with other like-minded people.
Mr Yardy said: "He accepts having a sexual interest in children. He said he had been accessing the material on and off for a couple of years.
"He said he had voices at the back of his mind telling him it was wrong."
Christina Rowberry, defending, said Parish was relieved to be caught and stopped, adding: "He fully accepts these offences are wholly distasteful."
But Miss Rowberry added that if sent to jail there was a risk he would be released without treatment.
Judge Michael Carroll said the most serious aspect of the case was the distribution of "such filth".
Parish's name will appear on the sex offenders' register and a sexual offences prevention order was imposed.
Parish had been employed as an administrator and receptionist at Sittingbourne Memorial Hospital in Bell Road, through an NHS recruitment agency since November 2011.
A CRB check was carried out, but he had no previous convictions.
Karen Proctor, director of nursing and quality at Kent Community Health NHS Trust, said: "No concerns were raised with us about his conduct during this time. We were not informed of any charges against him.
"We are working with Kent Police on this matter. Anyone who has any concerns should call our customer care line on 0300 123 1807."