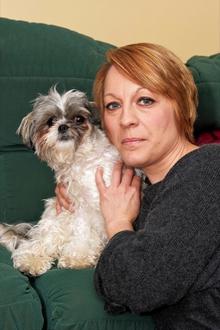 by Hayley Robinson
A dog owner has spoken of the moment she thought her pet had been killed after it was attacked by a Staffordshire bull terrier.
Naomi Russell was taking Bingo for a walk in woodland when he was set upon.
The 14-month-old shih tzu-chihuahua cross had to have an operation to remove his left ear canal and his bottom jaw stitched.
He has also been left with a bulging eye due to a blood clot.
Miss Russell, 39, of Wises Lane, Sittingbourne, said: "I went up the path and two men, two women and two Staffs passed me.
"I turned around to see where Bingo was and heard all this commotion. Bingo was screaming and the one of the other dogs had his head in his mouth.
"I told one of the men in the group 'you've got to get your dog off my dog.'
"He replied 'I'm trying'. He seemed as shocked as I was.
"My dog stopped screaming. I thought he was going to die because he was quiet for about two minutes.
"I put my arms around him. I thought if he's going to die he's not going to die on his own.
"The other dog still had hold of him.
"The next thing I knew I was holding him on his own without the other dog."
Miss Russell had just entered woodland via Gore Court cricket ground, off London Road, when the attack happened.
Both dogs were off their leads at the time.
She ran home with her dog in her arms to get her car keys before driving to WellPets. Bingo was stitched up and put on fluids. He was allowed home later that night but returned four days later to be operated on.
Miss Russell has been back to the site several times since the attack happened in the hope of finding the people.
She said: "I've not seen them. I've put up signs asking for information.
"They might think I want the dog destroyed but I don't.
"I just want to make sure they're being responsible and that it's being walked on a lead because there's lots of small children around there."