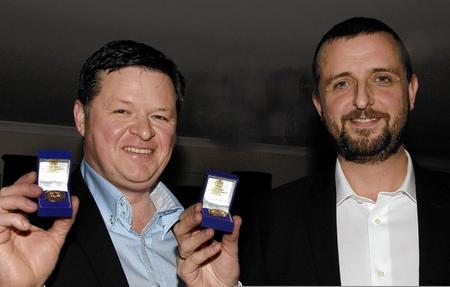 A Eurolink-employed lifeboat volunteer is one of two men to be recognised for 20 years' service.
Clive Hancock, 41, works at the firm A Glaze, which provides products such as polishes to the marine industry.
He and Andy Barnes were presented with long-service awards and a gift of weekend theatre breaks in London for them and their partners for their work on the Sheerness lifeboat.
Clive, who is a deputy second coxswain, said: "It is a massive commitment.
I have a young family, so it is quite a wrench sometimes, but it is very enjoyable and there is great camaraderie between the lads."
The dad-of-two added: "It is very nice to get a little bit of recognition for the effort you put in."
Lifeboat operations manager Colin Washford, who presented the awards, said: "From 1992 until 2012 the station boats have launched a total of 1,693 times, rescued 1,701 people, of these saved 159 lives, this being a great record of their achievements."
At the presentation, a cheque for £1,000 to go towards the RNLI was presented to Mr Washford by the steward of Sheerness Conservative Club and long-time supporter, Peter Fagg.
The donation was mainly raised by the sale of books at the front of the Sheerness-based club.