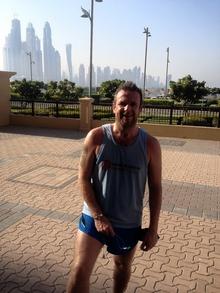 by Lewis Dyson
A former Sheppey schoolboy is preparing to run the Dubai Marathon in memory of his grandfather.
Stuart Bell was never much of a runner when he was a pupil at Sheppey Comprehensive, but he wants to change that by taking part in the biggest mass participation event in the Middle East on January 25.
The 36-year-old will be raising money for the charity Bowel & Cancer Research in memory of his grandad, Alexander Bell, who died from bowel cancer at the age of 58.
Stuart moved to the United Arab Emirates in 2006 as managing director of the Dron and Dickson engineering company.
His mum Carole still lives in Halfway.
He said: "I ran the Dubai 10k last year and really enjoyed it. I felt I wanted to go the extra mile – or extra 32km in this case – and thought it was a good way to remember my grandad.
"I was only eight when he died and lost my chance forever to show him how much he meant to me."
Mr Bell is training for the 26-mile race, which attracts more than 15,000 runners, although he did take a break to marry school teacher Nicky Lunney on November 1 before jetting off on a two-week honeymoon.
He went on to say: "She's very supportive and will be there to cheer me on.
"I'm not the greatest runner to have ever graced the track, but if I can finish in under four hours I'll be happy."
In the UK, 40,000 people are affected by bowel cancer every year.
Bowel & Cancer Research chief executive Deborah Gilbert said: "Research has come a long way since Stuart's grandfather died and many people survive the disease today.
"The support of people like Stuart is invaluable if we are to ensure that those survival rates keep rising."
Anyone who wants to add to Stuart's fundraising total can do so at www.justgiving.com/Stuart-Bell76