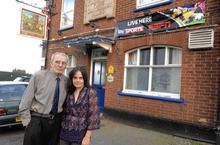 by Hayley Robinson
Rumours have been circulating that another town pub is set to close.
But the landlords of The Forresters Arms say that isn't the case. Now Julie and Bernard Hodder want to make it clear to the people of Sittingbourne that the Charlotte Street inn is holding its own.
Mrs Hodder said: "We took it over nine years ago. It had a bit of a bad reputation but we have been trying to build it back up.
"The customers we do get into the pub are excellent.
"We do get some youngsters come in but we obviously ask them for ID. Those who don't have any we turn away.
"As well as rumours that we're closing, customers tell us they have been hearing other rumours that we sell bad beer but we're with the same brewery as a lot of the other pubs in the town.
"I don't know why people want to spread these rumours. Perhaps it's jealousy? I don't know, but it only takes one person to spread rumours for it to affect business."
Mr Hodder said: "I'm happy here and I'm a great believer that if you have a good landlord they can keep control of their customers.
"I own the Happy Valley campsite in Leysdown on the Island and there's a bar there.
"We've never had any trouble like this before."