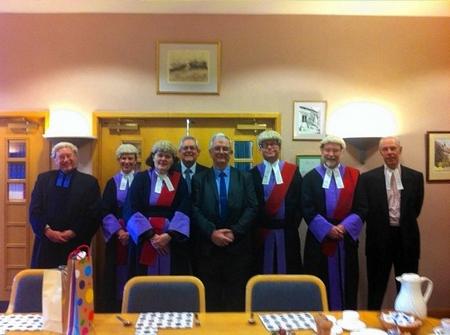 Former Sittingbourne policeman Peter Simmons has used his sleuthing skills to look into his family's history – and discovered a skeleton in a cupboard.
One of his wife Carol's ancestors was a co-conspirator with Guy Fawkes trying to blow up Parliament more than 400 years ago.
But the only plot the 70-year-old grandfather is now interested in is in his back garden where he grows his vegetables and flowers.
Peter has just retired from his security post at Canterbury Crown Court after receiving the thanks, good wishes and presents from judges, barristers and court staff.
One senior judge quipped: "After hearing that one of Carol's ancestors was a co-conspirator with Guy Fawkes, it is all the more appropriate that Peter became involved in law enforcement."
Peter was a former special constable who joined the police in 1968 and worked as a rural beat bobby around Sittingbourne for nine years.
The dad-of-three, who has been a guard at Canterbury since the combined courts opened in April 1995, said: "One of my hobbies is genealogy which I got interested in following the death of my daughter Wendy."
Peter has been married for 46 years and the couple live in Northwood Drive, Sittingbourne.
He joined Kent's newly-formed inquiry and custody section in the 1980s travelling all over the world collecting prisoners including bringing a murder suspect home from Australia.
In 1992, he retired from the force after 24 years and two weeks.
Canterbury's senior judge judge Adele Williams praised him for his day-to-day dealings with visitors to the courts.
She said: "Security staff at this court have to be diplomats, social workers and when necessary employ strong-arm tactics.
"He has shown himself on all occasions more than capable of dealing with everything that was thrown at him."
Peter said: "I am looking forward to spending more time gardening and tackling some DIY projects at the home where we have lived for more than 20 years. I am also lucky that my children and grandchildren live nearby."