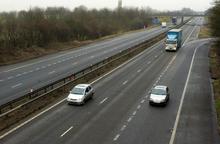 by Hayley Robinson
A section of the M2 has reopened - more than eight hours after a lorry jackknifed near a slip road.
Highways Agency experts say the lorry has now been removed from near the exit slip road at Junction 5 of the M2 coastbound carriageway for Sittingbourne and the Stockbury roundabout.
It jackknifed at 8.15am, but the road was only cleared at just before 5pm.
Agency staff said the clearance operation was made more difficult because of the position of the lorry, and its paper load.
But traffic built up throughout the day, with motorists reporting delays back to Junction 4 and beyond.
But the lorry driver is said to have had a lucky escape - walking away without injury following the accident .
Police, ambulance and the Highways Agency were all called to the scene. The road was closed to traffic at 8.30am.
A woman who drove past the wreckage, but who doesn't wish to be named, said the driver was lucky to be alive.
She said: "The cab had flipped forward so it was at a right angle with the road. When I first saw the trailer my first thought was 'I hope there's not a car trapped underneath there'. Luckily there wasn't.
"It's surprising nobody else was injured as this happened during rush hour. The man obviously had lady luck on his side that morning."
Highways officers eventually took the decision to stop traffic travelling along the M2 at around 8.45am.
The single-vehicle crash was between Faversham Road and Monkery Lane, and has been closed since 7.30am.