b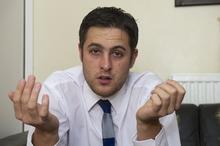 y Hayley Robinson
Three months after tying a banner to a roundabout pleading for a job, Kevin Crane is looking forward to a very happy new year.
The self-employed plasterer, who had been looking for regular employment for seven months, took the unusual course because he couldn't stand the lack of opportunities and didn't want to live off benefits.
He and his wife Esme also wanted to start a family.
The sign carried the words "hard working man in need of work, ring me on 07807 081510" and was placed in Mill Way, Sittingbourne, close to the BP garage.
As a result he had several offers from potential employers and by chance, the week we carried the article, he was approached to do some contract work in Poole for a dry external wall insulation company he had worked for in the past.
However, he was still determined to find regular employment and vowed to look into all the offers which have been put forward to him.
Fast forward 11 weeks and the 23-year-old now has full-time job as a technician maintaining large digital screens for Maritime Media Services in Maidstone.
As if a new career wasn't enough he and Esme also have some good news to share.
They are expecting their first baby in May.
Mr Crane, of High Street, Milton Regis, said: "I started on November 18. It's a very good and interesting job. They've really helped me.
"On top of that my wife and I are expecting our first baby. My life is moving fast. I'm over the moon and so happy. I've really landed on my feet getting a job I enjoy. Hopefully I can move onwards and upwards with it."
Peter Tanner, head of sales at Maritime Media Services, said: "The managing director Ed de Lucycorr actually saw the article about Kevin looking for work in the Sittingbourne Messenger and got in touch.
"It was his determination to do better and to work, his work ethic, which led to us offering him a job.
"He is currently maintaining screens and he will be trained to install them and to do other things as well."